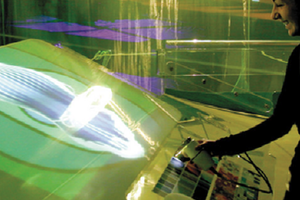 A robotics and coding kit for kids of all ages. Modular, colorful and LEGO® compatible. Build, code, play, create the future!
Meet Robo Wunderkind, the Lego of the future. This startup is building programmable Lego-like bricks that teach kids how algorithms and code work. It is launching today on stage at Disrupt, and on Kickstarter.
A robotics and coding kit for kids of all ages. Modular, colorful and LEGO® compatible. Build, code, play, create the future!
"We are building smart Lego bricks. We are embedding different electronics in the cubes," co-founder and CEO Rustem Akishbekov told me in a phone interview before Disrupt. "Then, you can simply program your devices with your smartphones and tablets. We created a programming language that is very easy to understand for children. They don't need to write codes, they just need to drag and drop blocks."
So what can you do with Robo kits? Well, it depends on you. You can build your own remote control car, for example Each block can do something different. For instance, there are proximity sensors, humidity sensors, motors and more. Connecting these bricks is as simple as putting Lego bricks together — there is no wire or magnet.
The company is aiming to ship during the Summer of 2016, and you can pre-order a kit on Kickstarter today. The basic kit costs $149 and you get 9 cubes — early bird prices are at $79. If you want 15 cubes, it costs $249. Finally, the big kit comes with 25 cubes for $399 — this kit includes a digital camera and a weather sensor. Overall, Robo Wunderkind wants to raise at least $50,000.
"The most established brand in the space is Lego Mindstorms. But it's for older kids — the programming language is very challenging," co-founder and COO Anna Iarotska told me. The best part is that Roko kits are compatible with Lego bricks, meaning that you can put a few smart Robo bricks inside a sophisticated Lego vehicle.
You can then connect your Robo Wunderkind bricks to your Android and iOS device via Bluetooth. After that, it's just a matter of drag and dropping blocks in the app to create simple algorithms. If you want to go to the next step, you can move on to program your robot withScratch, a programming language designed for kids.
What is Robo Wunderkind?
"The Lego of the future." - Techcrunch
Robo Wunderkind is a robotics kit that allows you to build your own robot, have fun, and pick up basic coding skills along the way. Just. like. that. 
Robo Wunderkind STARTER KIT
Who is it for?
Robo Wunderkind is for all kids aged 5 to infinity and beyond
Build
Robo Wunderkind is essentially a set of blocks which you can use to build all kinds of functional robots. Got LEGO® at home? Then you already have everything you need to customize your Robo Wunderkind to your child's interests.
Connecting these bricks is as simple as putting LEGO® bricks together — there is no wire or magnet. 
Connection system
Rebuild your robot easily
Learn how to code by playing
Our app's visual programming interface is super intuitive: kids with no previous exposure to coding will easily figure out how to program in our app. 
Kids can program the robot they have built to 
drive around while avoiding obstacles 
play a recorded sound when somebody enters the room 
react to claps and other noises 
play music when somebody picks it up 
record and play voice messages 
hide from or follow sources of light 
solve mazes 
surprise parents with a weather forecast 
set off on a treasure hunt using its digital camera 
blink when the lights are turned off
...and much, much more!
There are no limits to your child's imagination and we are working with educational experts in the field to build a library of different learning adventures for Robo Wunderkind. 
We can promise you one thing: playing with Robo Wunderkind will never get boring.
Our app will work on iOS and Android devices, we plan also to develop an app for Windows by September 2016.
Here are some photos from our workshop for the Kindergarten group of School of the Madeleine in Berkeley. Kids loved it so much! Just look at these happy faces!
Source
https://www.kickstarter.com/projects/startrobo/robo-wunderkind-a-programmable-robot-for-kids-of-a/description
http://techcrunch.com/2015/09/21/robo-wunderkind-is-like-lego-bricks-that-teach-you-how-to-code/