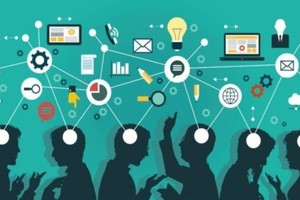 We live in the era of the gig economy, which is a labor market characterized by the prevalence of short-term contracts or freelance work as opposed to permanent jobs.
Chances are, you know someone who makes money through companies like Airbnb, Lyft, Etsy, Upwork and so on. Companies like these have reshaped the way the mainstream views work. When, how, where, and why can now be flexible aspects of how work gets done. People choose lifestyle and culture fits over paychecks and job security, because it's getting ever easier to find professional meaning and purpose without sacrificing work life balance.
On top of this, access to talent has reached an all time high as platforms like LinkedIn make poaching a company's best employees easier for recruiters and competitors. So, it's no surprise that companies all over the world are making significant investments in the employee experience with goals to make employees more engaged, productive, and happier by rethinking their physical, digital, and cultural environments.
As I write this, the global business community is in the midst of reshaping what it means to be an employee as well as what it means to work. This in due, in large part, to technology. Entire organizations can now be built without employees being physically present in the same office.
Below, I present 5 TED Talks that examine the future of work and the global workforce. You don't have to be a manager to understand that good communication is inherently necessary in the workplace. If you are part of a team at work (any team) then you know that communication is vital to meeting deadlines, reaching quotas, improving products and services, and so much more.
What Is the Future of Work? As companies stake their growth strategies on global expansion and pursuit of new markets, their ability to forge a human capital strategy and HR capability that is both globally consistent and locally relevant will be critical to success. Did you know that 68% of employees feel their company doesn't create a culture in which employees have a sense of purpose and meaningful impact?
Having a purpose over having a job is the ultimate end game in today's business environment. So, what does this mean for you and for your company? To put it bluntly, if employees do not feel a connection to the company, its upper management, or its purpose they will leave. Regardless of generation, if an employee does not feel valued or if there is no growth potential, it's highly probable that another opportunity will be sought. In a nutshell, the future of work requires an organization to create a meaningful culture that holds the interconnection of all people and processes to be paramount.
What is a Global Workforce? Distributed teams (aka: a global workforce) are now the norm for most mid-sized and large companies. Even small businesses like Prialto enjoy the benefits of having a diverse group of employees spread across multiple continents. With this distribution comes the need to learn about the traditions, languages, and customs of all team members, since strong interpersonal relationships are the core of good communication efforts.
As the workforce becomes more global — a product of economic, political, social and technological forces — the dynamics underpinning human capital have been altered extensively. Today, the profile of the average global worker entails a myriad of characteristics:
- An older, more gender and ethnically diverse workforce, with increased interconnectivity, has become the standard
- Country of origin and ethnicity no longer dictate a worker's geographical scope, especially with developing countries producing at least as many skilled, educated workers and managers as developed countries
- Working from remote locations no longer prevents employees from communicating with their colleagues, allowing teams to collaborate with ease across national borders and time zones
Conclusio: Widespread, accessible technologies as well as a globally open talent pool are reshaping the future workforce, and driving many organizations worldwide to reconsider how they design jobs, organize work, and plan for future growth. Are you leveraging collaborative technologies (e.g. video conferencing software, group communication tools) and outsourcing (e.g. virtual assistants) to strengthen your company culture and build revenue?
Quelle: Business 2 Community