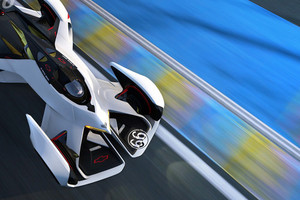 This Living Bamboo Highway Barrier Blocks Traffic Noise While It Sucks Up Pollution.
And wouldn't a bamboo forest look a lot nicer than a concrete wall?
The ugly concrete slabs that line urban highways might seem like a necessary evil. Without them, anyone living nearby would have to deal with traffic noise that was twice as loud.
In Amsterdam, the government is experimenting with a different way to block out the sound of passing trucks and cars that still cut noise but are less unsightly. Light, renewable bamboo, it turns out, might work as well as tons of concrete—and possibly even better.
After some successful smaller tests, the city has started growing a 20-foot wide, 500-foot long hedge from bamboo along a busy North Holland highway. As the bamboo grows to full size over the next couple of years, they'll study the noise reduction and decide if bamboo might make sense everywhere.
The idea came from a city engineer. "He was inspired by a noise barrier in the city of Eindhoven made of aluminum pipes," says vice-governor Elisabeth Post. "It made him think of bamboo 'pipes' in nature, and he thought it might be an attractive, green, and cheaper alternative for noise reduction than traditional materials used in noise barriers as concrete or steel."
Top Photo: Ananaline via Shutterstock
Unlike concrete, the plants absorb sound, so they may ultimately make highways quieter. "We think bamboo might make roads more quiet because the sound waves 'diffuse' in the bamboo hedge, rather than bouncing back from a traditional massive barrier," Post says.
While some other plants are able to absorb noise, bamboo is the hardiest and most likely to survive cold winters and all the salt dumped on roads to reduce ice.
Besides looking better than a sprawling concrete wall, bamboo is also cheaper. The city estimates that growing it may cost as much as two times less than using concrete and steel. It's also better for the environment; concrete has a massive carbon footprint, while bamboo can actually help suck pollution out of the air.
If the test is successful, the new hedges could potentially be used throughout the Netherlands. It isn't the country's only experiment with alternatives.
Another city is testing transparent, colorful solar barriers that can generate clean power while they block noise
In early April the first "Glowing Lines" section of road was unveiled on a provincial highway near Oss, in the Netherlands. It was designed by artist and innovator Daan Roosegaarde, using a light-emitting paint that glows at night. It's considered a sustainable alternative for areas where there's no conventional lighting and provides drivers a frame of reference, because the lines make the road's trajectory visible.

Daan Roosegaarde explained how they work: "These are "Glowing Lines", which form part of the Smart Highway project. We developed a type of paint, which charges up during the day, and glows at night. So, it works if there's enough sun, and if it's cloudy, we can supply a little bit of electricity to top them up a little. We use a solar panel so it's energy-neutral. It's functional, but I also find it very artistic."

Roosegaarde has other ideas for the future Smart Highways. Interactive lights that brighten when a vehicle approaches then dim when it passes by, saving energy when there is no traffic on the road. Wind lights get energy from roadside pinwheel generators, they light up using the draft produced by passing vehicles.

"We are working on roads that charge electric cars whilst driving. We are developing a paint that will be used to print snowflakes on the surface of the road and will light up when it's slippery. It's a dynamic paint that appears when necessary and then disappears again," says Roosegaarde...
Source
http://www.euronews.com/2014/04/21/gl...