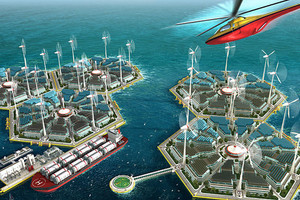 Siemens Wind Power recently commissioned two unique service vessels designed to streamline maintenance work on offshore wind farms. The vessels can anchor at a wind farm for weeks, allowing service teams to complete complex missions without requiring re-supply of spare parts.
In the future, the majority of our power will probably come from renewable energy sources. Offshore wind turbines are particularly promising because winds are stronger and more constant than than they are on shore, and because there is minimal public resistance. But servicing offshore wind turbines can be challenging because they are often far from shore, thus making them difficult and risky to reach during rough weather.
Siemens is the first in the industry to utilize purpose-built Service Operation Vessels (SOVs) for far-shore wind service. These state-of-the-art vessels are used to perform reliable, on-site maintenance on wind turbines installed far out at sea. Picture: The Esvagt Faraday
Thanks to their special design, SOVs are able to safely and efficiently reach offshore wind power plants, even in rough seas.
This week, two new offshore service operation vessels (SOVs) from Siemens that are expected to revolutionize the service of offshore wind parks were christened in Rostock and Hamburg, Germany. Their cutting-edge technology is expected to significantly reduce weather-related risks.
Ocean of Opportunities
"The new ships open up fresh opportunities for our service activities as well as the planning of maintenance," says René Wigmans, head of Maritime and Aviation Solutions, who is responsible for offshore services at Siemens Service Wind Power. "Because such a vessel can be based at a wind farm for several weeks at a time, our technicians can literally walk to work. This will reduce downtimes caused by bad weather and increase efficiency. Deploying our technicians to the turbines will also become safer and more convenient. At the same time, we can use such a ship for storage, right in the middle of a wind farm."
The Ampelmann system also offers the perfect addition to the special seaworthiness of the SOVs: It compensates for wave motion, making access to the wind turbines possible even during storms.
The contract for the SOV Esvagt Froude – named after English naval architect William Froude (1810–1879) and its sister ship the SOV Esvagt Faraday – was signed with Danish shipping company Esvagt back in 2013. While the hulls were built in Turkey, final assembly was performed at the Havyard Ship Technology shipyard in Norway. The company has extensive experience in building special vessels for the oil and gas industry, but the new SOVs were unique in many ways and required meticulous planning and specialized technical know-how.
All Aboard!
With its prominent inverted bow and large stern decks, Havyard's ship design achieves high speeds and steadiness even in rough seas. The high front is further characterized by an asymmetric glass-enclosed bridge and big cabin windows. The huge afterdeck provides space for the Safe Transfer of smaller service vessels.
Below deck is a warehouse area measuring 430 square meters, with space for six standard containers carrying thousands of spare parts. Previously, every missing spare part had to be brought in using smaller vessels, which often involved a trip of several hours. Thanks to the new ships, spare parts will be stored on-site.
Read more
New Module Lowers the Cost of Offshore Wind Power
Source:
http://www.siemens.com/innovation/en/home/pictures-of-the-future/energy-and-efficiency/sustainable-power-generation-wind-service-operation-vessels.html