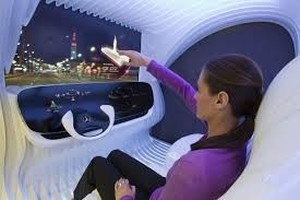 Speaking at an international conference on science and technology in Kyoto, Abe pledged Japan would contribute to innovations in driving technology.
Visitors to the 2020 Olympic Games will be able to see and use self-driving cars running in Tokyo, Prime Minister Shinzo Abe said Sunday, suggesting a change of rules over the next five years in Japan where even Segway transporters are basically not allowed on the street.
Japan has a mission to employ its technologies to improve the safety and benefit of vehicles, he told the annual meeting of the Science and Technology in Society forum, which gathers scientists, government officials in charge of science policy and businessmen. In particular, the prime minister mentioned the development of technology to transmit transport information, including signals and road conditions, to vehicles.
After United States Internet giant Google Inc launched its first self-driving car on a trial basis in 2010, many automakers including Japanese ones have entered the field and conducted tests. Changes in the law will be needed to fulfill Abe's vision, with the Road Traffic Act currently mandating that vehicles should have drivers. The government and local authorities in Fujisawa, Kanagawa Prefecture, near Tokyo said recently a street test on self-driving taxis will begin there by next March.
To secure the safety of passengers in the test, in which vehicles will drive themselves based on information from cameras and a global positioning system, specially trained drivers will be present on board the vehicles. A revised regulation was put into effect on Segways in July, meanwhile, to allow the operation of the two-wheel electric transporters across Japan on an experimental basis under certain conditions.
Quelle
http://www.bangkokpost.com/news/transport/717264/self-driving-cars-to-run-in-tokyo-in-2020-japan-prime-minister