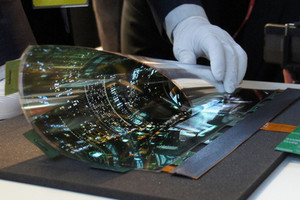 A leading international AV consultancy has reported that the future of TV is stacked heavily in favor of Quantum Dot LED (QLED) rather than OLED technology, due to LG simply not being able to make enough OLED TVs to satisfy demand and drive prices down.
The eye-catching claim was made at the recent QLED And HDR10 Summit in Los Angeles by Ross Young, Founder and CEO of Display Supply Chain Consultants (DSCC). In a presentation entitled QD vs OLED TV Capacity And Cost Outlook, Young concluded that 'OLED TV panel capacity is small and will remain small relative to LCD capacity through 2021.' Young's analysis finds that Quantum Dot (QD) TV shipments are expect to rise at a compound annual growth rate (CAGR) of 90% from 2016 through to 2021, hitting just over 100M units and a 34% market share. What's more, the DSCC research suggests that if, as anticipated, current technical issues are overcome and manufacturing costs are reduced, QLED screens could account for the entire LCD TV panel market by 2021.
OLED TV panel shipments, on the other hand, are only expected to rise at 49% CAGR up to 2021. What's more, on current projections OLED TV capacity is only expected to account for 4% of TV capacity by 2021. Delving deeper into some of the reasons why DSCC sees OLED struggling so much over the next few years, the report states that OLED TV production techniques are lagging significantly behind QLED ones.
QLED lines running to the so-called 10.5G specification are estimated to be as much as two years ahead of 10.5G OLED lines - a big deal when you consider that 10.5G lines are optimized for production of the 65-inch and 75-inch screens expected to become an increasingly key part of the TV market in the next few years. A 10.5G manufacturing facility, for instance, lets you get up to eight 65-inch screens vertically from a single sheet of glass, versus just three from 8.5G production lines.
From a business/profit perspective, the DSCC's research states that OLED TV panels aren't expected to get into positive earnings before interest and taxes (EBIT) until 2019, whereas the two predominant types of QLED technology - QD Enhanced Film and, especially, QD Color Filter - are positioned to deliver much stronger production volume increases and resulting faster falling costs in the period between now and 2021. Finally, DSCC believes that the most affordable, easy to make 'Color Filter' types of QLED TVs have significantly stronger potential for reducing power consumption, increasing brightness and improving viewing angles in the next few years than OLED screens.
Quelle: Forbes