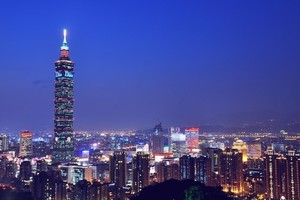 If cities are to reflect the culture of the present day while also inspiring the future, then by and large, cities across America are lagging. All generations, not just the millennials and Gen Z, are growing more connected. Why, then, do our cities not yet reflect the same type of digital connectivity and embrace of technology and data that our culture does?
While it's true that our buildings are becoming more intelligent, as a result of the growing gap between people and smart city technology, our urban landscapes and public spaces have fallen behind. This fact is especially significant when you consider what actually makes up the "smart city" that so many thought leaders have been talking about in recent years. In order for an entire city to be smart, the urban fabric needs to be just as a smart and connected as the buildings that grow from it.
Because 80% of the world's population will reside in cities by 2050, efficiency is key. Transportation and city service management are already difficult, and will only become more so. Smart city technology can be used to improve efficiency and reduce resource consumption. For example, Bigbelly, a pioneer in smart waste management solutions makes trash cans that feature a solar-powered trash compactor and sensors that let the city know how full a trash can is. As a result, trash collectors save time by only going to full cans.
But "smart" design isn't just about information and efficiency. Though often overlooked, one of the key measures of success for an urban space is how well the environment fosters human connection – or in the words of Jane Jacobs, social capital. So, creating a smart city requires much more than simply placing sensors anywhere they'll fit. It requires entirely rethinking the role of urban environments. Even more than how these environments will look and function, how will they interact with people? How will people interact with them?
Soofa, a Cambridge, Massachusetts-based startup, is working to create social, sustainable, and smart cities by reinventing formerly unloved urban furniture. Their first product, the Soofa Bench, is a solar-powered charging bench with environmental sensing capabilities, including temperature, humidity, air quality (dust, N02, CO), radiation, noise level, and luminosity. These "furnishings for the city of the future" gather data on environmental conditions and how people use their cities. The resulting open source data will help city officials, residents, architects, developers, and countless other groups shape a more efficient and enjoyable city through optimization and more intelligent urban design.
Bigbelly and Soofa share a vision of reinventing the roles of traditional objects through low-cost interventions. But smart benches and trash cans are only the beginning. In order to design for the future, we must respond to what the data tells us. To do this effectively requires rethinking how design and technology intersect, particularly in outdoor environments.

An example of how the data might be used by the general public is knowing in real time where popular events are happening or when the temperature and air quality are the best to go for a run. Open, granular data could also give insights to meet individual needs. For example, a family with young children going to a park likely has different goals than a group of college students planning a picnic. Real-time data can help these disparate groups understand which urban spaces will be the best fit – in this case, which playground will have more potential playmates versus which park won't be full of screaming kids. 
On a more macro level, government agencies can use the data to better plan for city improvements and capital expenditures, by adding real time data to existing data sets. Live data can be added as a new layer to traditional GIS maps to deepen understanding of the urban landscape.
Smart city data is also a powerful new tool for the planning and design community for pre-design site analysis, setting of performance objectives, and assessing performance once landscapes are built and operating. In fact, measuring how a park, streetscape, or other landscape performs over time may be one of the most promising uses of such data. Questions like "Did the design improve air quality?" or "Are more people using a certain space than before?" or "Are people using the space in the way that the designed envisioned?" will be easier to answer with the availability of open, real-time data.
The outlook for the connected city of the future is bright; however, how we ultimately craft this new city will depend on how we bring technology and people together. The design community needs to play an integral role and should be a leader in bridging the gap between the physical and the digital in smarter, more social, and more sustainable cities of the future.
Ed Krafcik and Isabel Munson are with Soofa, a company committed to reinventing overlooked but ubiquitous city infrastructure, like benches. It was founded by a team of female engineers and designers from Harvard and MIT and leads the smart city applications space. Their most recent product, the Soofa Bench, was piloted with the City of Boston in 2014. Based on the product's success, 100 Soofa Benches have been installed by early adopters in 7 U.S. States.
We've got smart phones, smart homes, the smart grid, smart meters, smart cards, smart watches. Even smart street signs. The list goes on. And technological advancements promise even more creative, smart innovations – often in places you'd never imagine.
Like this one…
An Innovative, Green Solution for On-the-Go Charging
Throughout history, park benches have been purely functional. Places to sit, rest, chat, and watch the world go by. But what if you could do all that, while putting them to even better use at the same time? 
That's the goal for engineers at a company called Changing Environments. They've designed a smart bench that helps consumers with some real, "no-brainer" technology. On-the-go charging for mobile phones.
Their invention is called the Soofa – an environmentally-friendly, solar-powered bench that doubles as a phone-charging device. It's compatible with any device. All you need is a USB cable. Just plug in your phone, kick back, and power up. The bench's 30-watt solar panel boasts enough juice to fully recharge 2
In fact, Changing Environments Co-Founder, Nan Zhao, says the Soofa system is able to monitor key data: "Our benches are actually connected to the Internet using 4G LTE, and they're uploading data about how many people are using it, and how much sun power we're collecting to our server. In the future, we're thinking of also implementing other sensors depending on what the needs of the areas are."
In other words, these benches could become data points, providing useful information to city officials. The Soofa isn't stuck in the lab, either. Twelve of the benches have already been placed in public areas in Boston – part of a city-wide pilot program.
President Barack Obama talks with Sandra Richter as they sit on a "soofa", a solar powered bench - Associated Press
Obama moved to the Rose Garden to sit with Sandra Richter on her solar-powered park bench. Ms. Richter pointed out the ports for charging a cellphone. Mr. Obama confided that as president, he never has to worry about his battery dying.
Bigbelly offers an enterprise approach to smart, connected waste management deployments. Your local account representative will work with you to evaluate your current waste management situation by conducting an assessment of your waste and recycling footprint, costs, and drivers to build out a Bigbelly system customized to your facility and needs. The CLEAN Management Console empowers you to monitor and evaluate station fullness, trends, and historical analysis reporting.
As a Bigbelly customer, you will be fully onboarded to the stations and CLEAN platform to ensure that you are in complete control of your deployment. Alternatively with Managed Services, the Bigbelly account management team can manage and report to you on your deployment's performance.
Benefits - We check all the Boxes..
Including Others You May Have Never Thought About!
Bigbelly addresses a number of challenges facing our various customers, as well as filling many needs that may not even be on your radar including the transformation of public space waste management to match the ever-connected world that we live in.
From Smart Cities to Internet of Things and the constant connection of a data stream, an enterprise Bigbelly deployment stages your facility, campus, or municipality for the future of core services as we know it.
Source
http://blogs.wsj.com/washwire/2014/06/18/photos-the-six-wonders-of-obamas-maker-faire-tour/