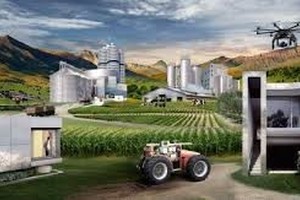 Another agricultural transformation is about to unfold and it will be driven by data, drones and automated machinery.
'I'm about to calve. Can you please bring me into the shed?" - This is a standard text message farmers will receive from cows in just seven years' time, a leading computer scientist has claimed. As the age of 'smart farming' advances, Dr Peter Mooney, senior research fellow at the Department of Computer Science at Maynooth University, says farmers need to "open their minds" to open-source farming. From email alerts that a heifer has drifted from the herd, or that a calf is struggling with an abnormal cough in the middle of the night, to driverless tractors applying manure in a specific way, Mr Mooney says the dawn of the next agricultural revolution is upon us. "The first agricultural revolution was when man stopped being a hunter-gatherer and tried to investigate animals and make crops.
"The second was during the industrial revolution, when people started building seed machines and ploughs. The third came in the 1980s with precision farming, massive machinery and the introduction of genetically modified organisms. Now it's time for smart farming," said Mr Mooney. But what about cost? Shortfalls in rural broadband? Loss of the social side to farming? Looking to United States, Australia, China, the Netherlands and Spain, Mr Mooney, says the changes are inevitable, particularly for the next generation of farmers.
"A smart farm is about getting more value out of the resources through information technology, mobile phones, apps and the internet. "The open-source element is about using software to share, modify and exchange this data with others," he said. Speaking at a talk on the future of farming organised by MIT Mullingar, a voluntary group dedicated to promoting IT in the Midlands, said farms generate vast quantities of rich and varied data every day.
"If stored correctly, this data can be used as digital evidence to reduce time spent completing grant applications or carrying out farm inspections, saving on average €5,500 per farm, per year," he said. He claims that introducing aerial survey drones to map weeds, yield and soil variation could increase wheat yields by 2-5pc. Using a fleet of specialised agri-robots, or 'agribots', capable of microdot fertiliser application could dramatically reduce fertiliser costs. Monitoring animal health and well- being through sensors could increase herd survival and milk yields by 10pc. GPS-controlled smart tractors have the potential to reduce soil erosion and could save fuel costs by 10pc.
"We need to imagine a time in the future when cows can text you when they need to come back for milking in the evening, when smart tractors move around a field to avoid puddles and survey drones, and mini robots move up and down a field making soil samples," he said. He stresses that standardisation and integration are key to successful smart farming. "The networking, apps, data collection must all be standardised and integrated, and open-source offers the ability to do that. It's a bit like a Lego system: you can fit any of them together to make lots of different things," he said. However, high-fibre broadband sensing technologies, hardware and software systems and data analytics solutions must be in place.
He highlights the Herdwatch app that thousands of farmers use to record farm events and compliance information, and the Moocall Calving Sensor, which records tail-movement patterns and spinal contractions that point to the cow going into labour. He believes that having every animal in the herd fitted with real-time sensors is a realistic goal. This would inform farmers of an animal's real-time position - whether standing up or sitting down - plus temperature and humidity. "Right now, you're looking at €40 to fit each animal. If you have a herd of 100 animals, that is a big cost, but in a few years' time they will be much cheaper," he said. Combining collected data with individual animal history will give farmers accurate information on the quality of their herd's milk production, breeding and health.
He says robots will work side by side with farmers. According to the Organisation for Economic Co-operation and Development (OECD), 80pc of farm data is never used. He says the current lack of rural broadband could hamper smart farming in Ireland. "It's not up to scratch at the moment so that is the big challenge, for it could potentially hold us back. But within 7-10 years, this could all be a very big possibility. The big driver is cost - at the moment, it doesn't make sense to equip the whole herd, but in 10 years' time prices will drop," he said.
Quelle: FarmIreland