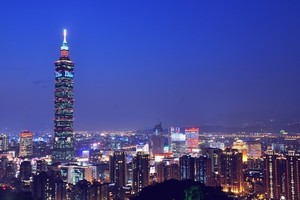 We humans have created machines to enhance ourselves, we invented the wheel and cars to liberate ourselves and travel. But now these machines are striking back, making air extremely polluted in high-density cities. In some cities, this pollution is visible. In others, air pollutants and smog may be invisible, but the impact on our daily lives and health is very real. We believe we should do more, not less, and make modern cities livable again.
This is why we are building the Smog Free Tower, the largest air-purifier in the world. The Smog Free Tower creates smog free air zones in the largest and most polluted cities around the world. The Smog Free tower allows people to breathe and experience what clean air in a city really means. In this project we combine high-tech science, design and imagination, and we can only create it with you! 
Airfilter for Cities and Parks - Foto: Roosegaarde
The aim of this project is to make smog more tangible to people and to reduce waste. So what do we do with the smog we accumulate? By compressing the filtered smog particles, we can create awesome and unique jewelry. Each Smog Free Cube literally contains the smog out of 1000 cubic meters of air! It's a beautiful way of carrying the message of this project with you and perceiving the tangible environmental impact you've made by supporting this project. 
The Smog Free Movement
The Smog Free Tower is the first step of the Smog Free Movement: our dream of a clean future in which people work together to stop pollution. We believe that the Smog Free Tower provides a unique opportunity to get people to understand the issue of air pollution through direct experience. The bubble of clean air that the Smog Free Tower generates will be a place that brings people together to work and think about how we can free our cities of smog. Let's kick start the Smog Free Movement and build the Smog Free Tower together!
Scale model of a Smog Free Tower
What have we done sofar
We've been working on the development of the Smog Free Tower for three years now. The idea for the Smog Free Tower arose during a visit to Beijing, where we experienced the effect smog has on our daily lives. We developed a working indoor prototype and now it is time to expand our scope and build the first outdoor Smog Free Tower. 
Around the world
This campaign is to fund the first pilot of the Tower in Rotterdam, the Netherlands. The tower will travel around the world, from city to city. From Beijing to Paris. From Los Angeles to Mexico City. The tower lets citizens experience the value of breathing clean air. The Smog Free Tower is the first step in working together to free cities permanently of smog. Together we can fight air pollution. 
In areas affected by severe air pollution, the Smog Free Tower will harvest enough smog to produce over 3500 Smog Free Cubes per day. A total of 1 million Smog Free Cubes will be made to support the message of The Smog Free Movement. The Smog Free Cubes are first of all developed to make sure the Smog Free Tower produces no waste. All the smog we collect, is processed into a Smog Free Cube and turned into an exclusive piece of jewelry. The Smog Free Movement stands for a better and cleaner future we can create together. The Smog Free Cubes are the building blocks of that future
Source
https://www.kickstarter.com/projects/1777606920/the-smog-free-tower/description