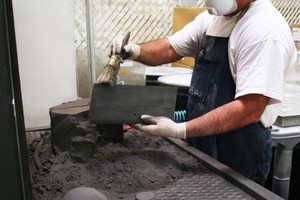 3D printing and additive manufacturing (AM) won't be replacing high-volume mass manufacturing anytime soon. But no one really expects that. Instead, these technologies have been making inroads in industries with high-value products that benefit from 3D printing's ability to make them lighter, stronger, better, or just plain possible.
High-volume mass manufacturing is usually aimed at consumer products for large OEMs, not products in industries already using additive techniques to make end-production parts -- like aerospace, medical, and high-end automotive. Some obstacles remain to AM's advance into broader industrial use.
A finisher brushes away excess powder on a control surface built for unmanned aerial vehicles (UAVs). The part is made from NyTek 1200 CF, a carbon-filled material used for laser sintering.
(Source: Stratasys Direct Mfg)
As many observers have noted, engineers need several changes. These include more and better materials in an open market, faster machines, more reliable processes and process control to ensure repeatability and consistency, several kinds of better software, and industry standards. They also need to toss out the traditional thinking about what constitutes both design and manufacturing constraints.
The 3D printing industry shouldn't be talking about AM. "Instead, we should be talking about what design engineers want to do and how to accomplish that," said Tom Charron, vice president of product marketing for 3D Systems. "Don't adopt the technology because it's 3D printing but because it changes the game and what you want to do. Until recently, we've been in the hype phase." The good thing that comes from all that hype is it gets people thinking and asking questions, such as, what does it really mean for your business? And how can you use it to make better products?
Engineers aren't going to print all the components of an aircraft tomorrow, but they can start printing some of them, Charron said. "Adopting 3D printing for production changes everything, from the very core of how you serve customers, to what you create for them," he said. "It's a complete rethink of how to get to those creative products, how certain components are made, and the supply chain. You go from 15 different parts from 15 different vendors, to one printer that makes the whole thing. So everyone from the CEO down to the engineer needs to think about how to take advantage of 3D printing to get to end-products."
3D printing end products is usually done in two different production scenarios. Although it's not often the right fit for serial production -- the same part spat out millions of times -- the reason to use 3DP is because a part can't be made any other way due to its complexity. The other scenario is mass customization. "Often these parts aren't overly complex designs, but you need to make thousands of a one-of-a-kind piece and the only way is to 3D print them," Charron said. "For example, 97% of hearing aid outer shells -- the part customized to fit your ear -- are now 3D printed."
Charron said 3D Systems is betting on both areas. High-value parts for healthcare will be the first expansion of AM in mass customization. In serial production, 3D printing a production part is now done for a specific performance advantage that can be gained. "If a turbine blade can be made 10% lighter, and that pays for reduced fuel use over the life of the aircraft, that's the justification for the extra cost over subtractive manufacturing," he said. "This will happen at the intersection of high-value products with products that can benefit from being 3D printed because it makes them lighter, stronger, or better."
Source:
Ann R. Thryft, Senior Technical Editor, Materials & Assembly
http://www.designnews.com/author.asp?section_id=1392&doc_id=278230&dfpPParams=ind_183,industry_auto,industry_aero,industry_gov,industry_machinery,industry_medical,kw_40,bid_27,aid_278230&dfpLayout=blog