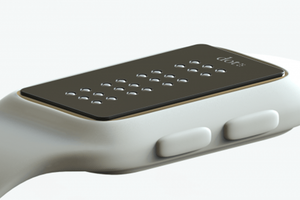 In the past decade we've seen handheld devices change from 'dumb' to 'smart' and from big to small – then back to big again. Now, as the humble wristwatch starts a smart journey of its own, one South Korean startup has created a braille device that shares the latest technology with the visually impaired.
According to the World Health Organization, there are 285 million people with severe visual impairment across the entire world. Though 'active braille' technology exists (displaying changing braille text in real time), costs are estimated around the $3,000 mark. Not quite what you'd call accessible.
The low-cost device uses 'active braille' and is expected to cost around $300
So in comes DOT, a newcomer to the industry that is set to take the braille market by storm. Having already produced a low-cost active Braille smartwatch, the company's next step is to 'return equal information access to a demographic that has been left behind in the age of real-time digital text'.
According to Tech in Asia, The DOT smartwatch utilises haptic technology, providing real-time feedback through touch. For example, you could link the DOT smartwatch up to your smartphone via bluetooth and your messages will be converted intro Braille on the smartwatch.
Eric Ju Yoon Kim, CEO and DOT Co-founder, says of the technology, "Until now, if you got a message on iOS from your girlfriend, for example, you had to listen to Siri read it to you in that voice, which is impersonal. Wouldn't you rather read it yourself and hear your girlfriend's voice saying it in your head?"
The innovation doesn't stop there. DOT is taking its technological know-how elsewhere too. The company has already installed its modules at ATMs and train stations across South Korea. These modules can also be programmed to display information updated in real time. So if someone wants to know when the next train is, they can. Want to know how much cash you have left in your account? You can. Though you might not want to.
The DOT smartwatch will go on sale in the United States and Canada initially, expected to cost around $300.
Source:
By: Kurren Tatla
http://www.goexplore.net/future-tech/dot-braille-smartwatch-for-blind/