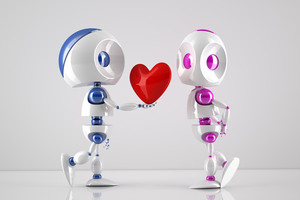 "Robophilia may be alien now, but could be normal in the near future."
 If you think you can't live without your devices now, just wait. Technology is already paving the way for a future filled with robot-derived pleasure. In her recent blog for The Huffington Post, Dr. Helen Driscoll, a senior psychology lecturer and researcher at the University of Sunderland in the U.K., predicted that attitudes toward sexual relationships with robots will change as technologies that would enable it improve.
IAN MCDONNELL VIA GETTY IMAGES
"As robotic sexual technology advances, it is also likely that social norms about sex and relationships will change in the future," Driscoll said. "Robophilia may be alien now, but could be normal in the near future as attitudes evolve with technology."
Fortunately, there are already a plethora of emerging technologies that could be harbingers of robot-enhanced good times to come. If robot sex is the future, here are a few reasons that the future may be coming sooner than you'd think.
Drones May Already Be Watching You Bone  
"Surveillance" sounds scary, but "voyeurism" can be super-erotic. Just ask the creators ofDrone Boning, a short film that captures couples getting carnal in the Northern California countryside.
Although it's mainly aimed at having a good time, the music video raises questions about privacy in the era of high-tech surveillance. It's also a fresh take on porn from an unexpected angle, using a technology that's quickly becoming commonplace. Eyes to the skies, lovers. 
We Already Have Virtual Reality Porn
Only a few scant months ago, any mention of porn involving the Oculus Rift virtual reality headset immediately conjured images of dirty Japanese cartoons (more on that later). Not that there's anything wrong with hentai, but the way some porn production companies are now embracing the format is bound to have broader appeal.
Last month, HuffPost Weird News reporter David Moye got a chance to try out Naughty America's stereoscopic, point-of-view VR porn. He strapped on an Oculus Rift and assumed the role of both male and female actors in different movies. 
"It was all right, but weird because it was POV and I was not used to having a vagina," Moye said. "They also had a male version and my body hasn't looked that ripped or tattooed, well, ever."
Robot Hand Jobs Aren't Just Coming ... They're Here
An earlier iteration of the immersive VR porn movie had a more hands-off approach to robot sex -- at least when it comes to the human hand. The "VR Tenga" debuted at an Oculus gaming jam in Japan in 2013.
The contraption is the marriage of a masturbation device (the "Tenga") and a haptic (touch-sensitive) controller. When synced with a pornographic movie viewed through a headset (in this case, the aforementioned cartoons), the VR Tenga simulates sex -- whether it's a handy, intercourse, or what have you. 
Considering the advances made in immersive porn since the VR Tenga hit the scene, it's only a matter of time before the format goes fully interactive. Hopefully they'll be able to make the design a little less giggle-inducing. Although maybe that's just a primitive bias. 
We're Building Sex Dolls With Naughty Minds
Sex dolls have been around for a long time, but it's just recently that they've started to bridge the "uncanny valley." Compared to old-school blow-up dolls, the new crop of synthetic sex partners already has an advantage in terms of looks. But nothing is sexier than a naughty mind. 
The exciting news is that researchers are already working on building an AI that's smart enough to respond to a user's every desire. Inventor Matt McMullen, whose company makes posable, anatomically correct sex dolls called RealDolls, is looking to incorporate robotics and artificial intelligence into his product in the hopes of establishing an emotional connection between man and machine.
 The AI is still under development, but the goal is to have the dolls have conversations with the users, and respond with facial expressions. For now, his team is focusing on the dolls' heads. But some futurists propose that fully functioning sex robots aren't far off -- and hopefully notthe kind that run amok.
There's A Moral Case For Robot Sex Workers  
In 2012, two New Zealand researchers at Victoria University of Wellington envisioned a scenario in which commercial sex robots would be in wide use by 2050.
In their study, Michelle Mars and Ian Yeoman argued that commercial sex robots would be free of disease and would reduce the trafficking of real people, solving two major problems with the human sex trade. 
"In 2050, Amsterdam's red light district will all be about android prostitutes who are clean of sexual transmitted infections, not smuggled in from Eastern Europe and forced into slavery," they wrote. 
The researchers proposed that the bots would be made with bacteria-resistant fiber and cleaned after each use to curtail the spread of disease. They also speculated that customers would "feel guilt-free" about having sex with a robot, and, since it's not a person, wouldn't have to lie to spouses about what they are doing -- a hypothesis that might require a futuristic level of honest communication.
However, it's probably worth noting that a 2014 poll revealed that one in five people in the U.K. said they'd have sex with a robot. A 2014 study by Pew Research on the role of robotics and AI in the future quoted one expert who surmised that "robotic sex partners will become commonplace," although it'd be a somewhat divisive issue, like selfies (yes, selfies).
MIKECOGH/FLICKR
Sex With Robots May Have Health Benefits 
Disease-free robot sex is one thing. But mind-blowing orgasms that have the power to extend your life? Some futurists think it's on the horizon, and that the only lovers capable of giving humans longevity orgasms are robots. 
In 2012, the futurist website Transhumanity argued that "shrieking, frothy, bug-eyed, amnesia-inducing orgasms" administered by sex robots were one key to extending human lifespans, and went into lurid detail about the kinds of sex acts that specialized robots would be able to perform on "meat bag" humans.
Although the article in question now appears to have been taken down, the claim has some merit. Researchers have found a correlation between having more orgasms and living longer,particularly for women. If every orgasm is a "longevity orgasm," and if the advantage of the robot lover is that it's never too tired for sex, then party on.
Westworld (en.wikipedia.org)  
Westworld is a 1973 science fiction western-thriller film written and directed by novelist Michael Crichton and produced by Paul Lazarus III about amusement park robots that malfunction after a power surge and begin killing visitors. It stars Yul Brynner as anandroid in a futuristic Western-themed amusement park, and Richard Benjamin and James Brolin as guests of the park.
Westworld was the first theatrical feature directed by Michael Crichton. It was also the first feature film to use digital image processing, to pixellate photography to simulate an android point of view. The film was nominated for Hugo, Nebula and Golden Scroll(a.k.a. Saturn) awards, and was followed by a sequel film, Futureworld, and a short-lived television series, Beyond Westworld. In August 2013, HBO announced plans for atelevision series based on the original film.
Sometime in the near future a high-tech, highly-realistic adult amusement park called Delos features three themed "worlds" — West World (the American Old West), Medieval World (medieval Europe), and Roman World (the pre-Christian city of Pompeii). The resort's three "worlds" are populated with lifelike androids that are practically indistinguishable from human beings, each programmed in character for their assigned historical environment. For $1,000 per day, guests may indulge in any adventure with the android population of the park, including sexual encounters and even a fight to the death, depending on the android model. Delos' tagline in its advertising promises "Have we got a vacation for you!"
Peter Martin (Benjamin), a newly-divorced lawyer and first time Delos visitor, and his friend John Blane (Brolin), who has vacationed at the park before, go to West World. One of the attractions in West World is the Gunslinger (Brynner), a robot programmed to instigate gunfights. The firearms issued to the park guests have temperature sensors that prevent them from shooting humans or anything with a high body temperature, but allow them to "kill" the "cold-blooded" androids. The Gunslinger's programming allows guests to outdraw and "kill" it, with the robot always returning the next day for another duel.
The technicians running Delos notice problems beginning to spread like an infection among the androids: the robots in Roman World and Medieval World begin experiencing an increasing number of breakdowns and systemic failures, which are said to have spread to West World. When one of the supervising computer scientists scoffs at the "analogy of an infectious disease," he is told by the Chief Supervisor (Alan Oppenheimer), "We aren't dealing with ordinary machines here. These are highly complicated pieces of equipment, almost as complicated as living organisms. In some cases, they've been designed by other computers. We don't know exactly how they work."
The malfunctions become less peripheral and more central when a robotic rattlesnake succeeds in injuring Blane in West World, and, against its programming, an android refuses a guest's sexual advances in Medieval World. The failures escalate until Medieval World'sBlack Knight robot kills a guest in a swordfight. The resort's supervisors, in increasing desperation, try to regain control by shutting down power to the entire park. However, the shutdown traps them in Central Control when the doors automatically lock, unable to turn the power back on and escape. Meanwhile, the robots in all three worlds run amok, operating on reserve power.
Martin and Blane, passed out drunk after a bar-room brawl, wake up in West World's bordello, unaware of the park's massive breakdown. When the Gunslinger challenges the two men to a showdown, Blane treats the confrontation as an amusement until the robot outdraws, shoots and mortally wounds him. Martin runs for his life and the robot implacably follows, tracking him with its heightened senses, including infrared scanners.
Martin flees to the other areas of the park, but finds only dead guests, damaged robots, and a panicked technician attempting to escape Delos who is shortly thereafter shot by the Gunslinger. Martin climbs down through a manhole in Roman World into the underground control complex and discovers that the resort's computer technicians suffocated in the Control Room when the ventilation system shut down. The Gunslinger stalks him through the underground corridors. Ambushing it, Martin throws acid into its face and flees, returning to the surface inside the Medieval World castle.
With its optical inputs damaged by the acid, the Gunslinger is unable to track him visually and tries to find Martin using its infra-redscanners. He stands behind the flaming torches of the Great Hall to mask his presence from the robot before setting it on fire with one. Hearing weak cries for help, Martin rescues a woman chained up in the dungeon, but when he tries to give her water she short-circuits, revealing she is an android. The burned hulk of the Gunslinger attacks him one last time on the dungeon steps before succumbing to its damage. Martin, apparently the sole human survivor, sits on the dungeon steps in a state of near-exhaustion and shock, as the irony of Delos' slogan resonates: "Have we got a vacation for you!"
Source