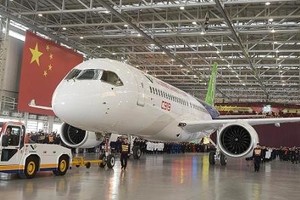 It was only a matter of time. And while it may take another decade before it poses any competitive threat in Asia, the state-owned Commercial Aircraft Corp of China is building regional jets for the booming local market. That makes Boeing and Airbus the prime targets. The Commercial Aircraft Corporation of China, known as COMAC, showed off its C919 plane in a huge ceremony in Shanghai. It can seat up to 168 passengers and is intended to compete with the single-aisle jets, such as the Airbus A320 and Boeing's 737,
The first C919 aircraft rolled out at the newly built Manufacturing and Final Assembly Center Pudong Base of Commercial Aircraft Corporation of China, Ltd. (COMAC) on November 2nd, 2015.
images by Comac
COMAC said it has received orders from 21 customers for a total of 517 aircraft, mostly from Chinese carriers but also from GE Capital Aviation Services, according to reports.
Qatar Airways Chief Executive Akbar Al Baker said that he would have "no hesitation at all in buying Chinese airplanes," as long as they were made to the standard that he wanted.
"There is nothing wrong with buying Chinese. You use an iPhone, which is made in China. Designed by somebody else, but made in China. I think it would be good for this (Boeing/Airbus) monopoly to be broken," Al Baker told CNBC, speaking at the Dubai Airshow.
Emirates President Tim Clark said you can "never say never" when it comes to China, as it has the "human resource, the physical resource, and the wealth to do it." But, he added that the barriers for entry into the airline business are very high.
"If the Chinese are going to do that then it's a big catch up that's got to take place. I'm not saying that will not happen. But it is a very, very complex business to get into," Clark told CNBC.
Even Airbus Chief Fabrice Bregier acknowledged that outside players were piling pressure on the European group and U.S. rival Boeing, which is the biggest airline in the world in terms of deliveries. The likes of Brazilian firm Embraer has emerged as the world's number three plane manufacturer and COMAC has stepped up its operations.
But even as airline bosses are willing to entertain the notion of a Chinese plane manufacturer, analysts dismissed claims that it could challenge the more established brands in the space, owing to the lack of industrial experience and COMAC's unrealistic production capabilities.
"The C919 is a stepping stone for Chinese aerospace experience and knowledge, but right now, it has zero impact on Airbus or Boeing and isn't a viable competitor. By the time they get the industrial knowhow - which could be 50 years - Airbus and Boeing will long since have moved the game on," chief analyst at StrategicAero Research, Saj Ahmad told CNBC at the sidelines of the Dubai Airshow.
"Realistically, China's quickest way to any remote semblance or parity is through cooperation and not head-to-head competition, because on the latter basis, they're always playing catch up," Ahmad added.
Source
http://english.comac.cc/