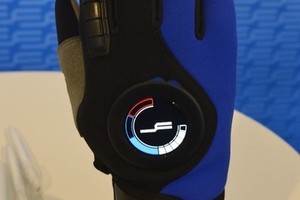 Born in the electric surfboard-crazed nation of Germany, the J-Force eBoard is one of the fastest electric-propelled boards on the market, reaching 34 mph (55 km/h) on the open water. In place of the usual handheld controller, the eBoard uses a wearable glove that puts speed control at your fingertips ... literally.
Germany isn't the only country on the map where electric surfboard startups are sprouting up – Aquila comes from Spain and Radinn from Sweden, to name a few others – but it sure does seem to produce more than its fair share. Virtually every time we go to a boat show there, we see another all-new electric surfboard developed in-country. Last year, it was the Waterwolf MXP-3. At this year's Boot Düsseldorf show, it was the Lampuga. And at this month's Interboot show in Friedrichshafen, it was the eBoard, developed by Stuttgart-based J-Force.
With a listed top speed of 55 km/h (34 mph), the eBoard promises to be one of the fastest electric boards on the water. The Lampuga was being hailed as the "world's fastest electric surfboard" earlier this year in Düsseldorf with that very same 34-mph top speed, so the eBoard is right at the front of the curve. It relies on a 15-hp electric two-jet drive to shoot its rider forward across the water.
But what really sets the eBoard apart from competitors at home and abroad is its wearable controller. Typically electric boards use a handheld throttle, whether it be wireless or hardwired to the board. J-Force takes control out of your palm and puts it around your fingers. Its eFlex Controller is a wirelessly-connected glove that lets you accelerate by simply bending your index finger. To slow the e-drive down, you straighten your finger out.
The eFlex glove is made from a form-fitting neoprene-type material that should be comfortable to wear and basically eliminates the risk of dropping your wireless controller in the drink during a wipeout. In addition to providing wireless control, the eFlex glove has a digital display on the back of the hand for quick-reading of key system information like remaining battery power and range.
Other electric boards that we've seen in person tend to look like big, thick planks, but the eBoard actually looks like a relatively thin, maneuverable surfboard, complete with a rockered nose. Its 55-lb (25-kg) weight is much less than the Lampuga (86 lb/39 kg) but a bit more than the Waterwolf (53 lb/24 kg) or Aquila Carver (48.5 lb/22 kg). We didn't get to actually test it out, but it looks like it'd be fairly manageable both in and out of the water, at least insofar as powered surfboards go.
One aspect of the eBoard that doesn't shine is its paltry runtime, a problem that plagues virtually every electric surfboard out there. Twenty to 30 minutes of water time just doesn't seem like much of a payoff for two hours of charging. We don't expect to see an all-day e-surfboard anytime soon, but we'd certainly want to enjoy a good hour or two of high-speed fun before getting stranded back on the hot sand.
The eBoard is available for preorder now, and J-Force tells us that it plans to begin deliveries in November. It's priced at €13,990 (US$15,600) for the personalized, limited-run "first edition" model and €12,590 ($14,035) for the standard model. Both versions include the eFlex controller, charger, board bag and other accessories. J-Force's company mission is to create groundbreaking electric watercraft (EWCs) that combine exhilarating driving with eco-friendly, zero-emissions design. The eBoard is its first step toward that goal, but it's not the only one in the works. J-Force is also showing a concept version of its eJet at Interboot.
Still under development, the eJet is an all-electric personal watercraft (PWC) with a 320-hp electric drive. There's a bit more room for batteries aboard a 772-lb (350-kg) PWC, so the eJet offers a much more reasonable runtime of around two hours. Like the eBoard, it takes about two hours to charge. J-Force hasn't estimated a top speed, simply promising a thrilling ride underpinned by quick, electric-driven acceleration. J-Force plans to launch the eJet next year and is estimating a price of €35,000 ($39K). That's where all-electric water toys lose us. We like the idea of a quiet, exhaust-free form of high-speed on-water entertainment, but with tiny runtimes and extraordinary prices, it seems very hard to justify such a purchase when you have gas-powered designs like the Sea-Doo Spark that offer so much more bang for the buck. But maybe we just have to go live in Germany for a while; it seems they're pretty stoked on electric water vessels.
Quelle
http://www.gizmag.com/j-force-eboard-electric-surfboard/39569/