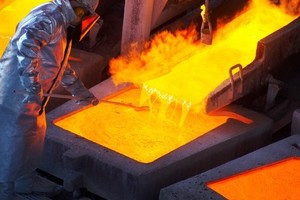 Given a certain architectural design intent, only very specific materials will work without the need to severely alter or downgrade the architect's vision. When traditional construction materials cannot answer that call, then it's time to look beyond the norm and see which material could fit the bill.
To improve environmental performance, some materials can reduce embodied carbon, reduce the amount of framing, or reduce the loads on the main structures which can in turn be lighter, all of which can contribute to a building's sustainable credentials.
Mathieu Meur, managing director of Meinhardt Façade Technology lists his top five materials changing the face of buildings:
From aesthetics to environmental performance the reasons for exploring new building facade materials are many.
1. ETFE
Essentially, this is a polymeric membrane or foil that is typically configured as a pillow for use as façade or skylight material.
Although it has been used for many years, and is relatively common in Europe, its adoption rate worldwide is relatively low.
Some of the best known examples include the Eden project in the UK, The Allianz Arena in Munich, the Water Cube in Beijing, and Resorts World at Sentosa in Singapore.
The main advantages of ETFE include its light weight nature, great flexibility, and the ability to "weld" several sheets into massively large panels, all of which contribute to minimal framing over very long spans.
For instance the panels for the Sports Hub in Singapore are over eight metres long, but weigh in at just over one kilogram per square metre.
2.0 Carbon Fibre
Carbon fibre is well known for its versatility, from iPhone covers to disc brakes for Formula One cars. But its use as a cladding material is rather rare, as the technique has only recently been developed and fine-tuned.
The possibilities that it opens up, though, are stunning.
One particular project saw the construction of a lightweight roof cladding that spans 15 metres by 15 metres supported on its side only, without intermediate supports, and yet it is only 60 millimetres thick. This type of span-to-depth ratio is virtually unheard of with any other building materials.
The main downside of the technology is its high Price.
3.0 Ultra-High Performance Concrete, or UHPC
Concrete has been used for building façades for decades. However, this new evolution on a traditional material opens the doors to advanced façade design that would otherwise not have been possible with traditional concrete technology.
In particular, UHPC panels can be much thinner, and thus lighter, than architectural precast concrete panels.
They can also accommodate with ease certain patterns or holes, where this would prove challenging or even impossible with reinforced precast concrete.
4.0 Solid Surface
This material takes on various names, depending on the manufacturer, including Himacs by LG and Corian by Dupont. It is more typically known to make elaborate yet resilient kitchen tops or bathroom fixtures.
However, through careful selection and review of specific properties, it can also be used for the external cladding of buildings.
The advantage of this product is its extreme formability, its lightweight nature, and the ability to seamlessly join several sheets to form very large continuous surfaces.
The main disadvantages include its comparatively high cost, as well as the limited range of colours that can be used externally.
However, its plus points do mean that with some architectural design intents, it is possibly the only workable solution that can be considered.
5.0 Corten Steel
While building designers typically try to avoid or minimise corrosion in an effort to ensure the durability of their creations, others turn to Corten steel panels.
These are essentially pre-weathered (read "rusty") steel panels, which have been aged artificially in the factory and then passivated prior to being shipped to site and installed.
This material lends a very rustic look to building façades, thanks to its warm orange, reddish or brownish hues, with no two panels being exactly the same.
Meur believes the scope for unusual construction materials or techniques is tremendous.
"Comparing advances in the automotive industry to that of the façade industry, both of which, on the face of it, make use of similar materials (metals, glass, polymers, etc.), I feel that the façade industry, although it has certainly progressed, has a lot of catching up to do," he said. "On the other hand, the adoption of new materials cannot be made at the expense of performance requirements."
Façade materials and systems are expected to carry out a number of functions and perform in a variety of ways, such as structural integrity, durability, weather-tightness, acoustic insulation, thermal insulation, as safety and security barriers and more. That's all the more reason to look for the best solution for each individual façade.
"As the industry looks to push boundaries, it is imperative that a thorough assessment of the durability of new materials proposed takes into account daylight and UV exposure, rain acidity, environmental pollutants and the like so that form doesn't compromise function," Meur said.
Source:
https://sourceable.net/five-materials-changing-face-buildings/#