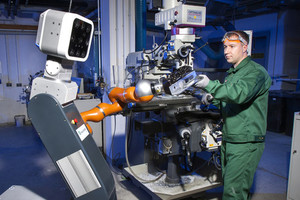 The new era of robotic co-workers is here. YuMi is the result of years of research and development, making collaboration between humans and robots a reality, but it is also much more.
ABB has developed a collaborative, dual arm, small parts assembly robot solution that includes flexible hands, parts feeding systems, camera-based part location and state-of-the-art robot control. YuMi is a vision of the future. YuMi will change the way we think about assembly automation. YuMi is "you and me", working together to create endless possibilities.  

A play on words, YuMi signifies "you" and "me" creating an automated future together. This groundbreaking solution is the result of years of research and development, heralding a new era of robotic coworkers that are able to work side-by-side on the same tasks as humans while still ensuring the safety of those around it.
Human - robot collaboration
Innovative human - friendly dual arm robot with breakthrough functionality designed to unlock vast global additional automation potential in industry. YuMi is designed for a new era of automation, for example in small parts assembly, where people and robots work hand-in-hand on the same tasks. Safety is built into the functionality of the robot itself. YuMi removes the barriers to collaboration by making fencing and cages a thing of the past.
Few production arenas are changing as quickly as small parts assembly. The electronics industry, in particular, has seen demand skyrocket past the supply of skilled labor. As conventional assembly methods diminish in value, manufacturers are finding it strategically and economically imperative to invest in new solutions.


While YuMi was specifically designed to meet the flexible and agile production needs required in the consumer electronics industry, it has equal application in any small parts assembly environment thanks to its dual arms, flexible hands, universal parts feeding system, camera-based part location, lead-through programming, and state-of-the-art precise motion control.
Sources
https://www.youtube.com/watch?v=2KfXY2SvlmQ
http://new.abb.com/products/robotics/de/yumi