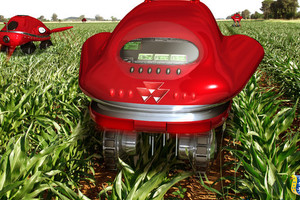 NEW DELHI/PUNE: There are drones flying over the fields in Marathwada region, assessing crop losses due to deficit rainfall, as the Maharashtra government turns to technology to ensure timely intervention and compensations for farmers in an area notorious for farmer suicides. Private weather forecaster Skymet is using drones, or unmanned aerial vehicles (UAVs), to map 51 villages of Marathwada under a pilot project of the BJP-led state government, officials said.
The state has also started cloud seeding on a pilot basis in the Marathwada region to create artificial rains.
Madhya Pradesh and Uttar Pradesh governments, too, are expected to soon start using lowcost drones to assess crop losses.
Confirming the use of drones, Maharashtra agriculture commissioner Vikas Deshmukh said, "The state government has decided to carry out pilot projects for assessing crop yields using different technologies from four different companies."
Reinsurance giant Swiss Re and Climate Change for Agriculture, a not-for-profit organisation based in Delhi, are also participating in the project to assess 186 villages in the state, using drones and satellite imagery.  
Maharashtra, the country's richest state, also accounts for the highest number of farmer suicides, with the worst-hit regions being Marathwada and Vidarbha. And this monsoon season, Marathwada is among the areas that received lowest rains with seasonal rainfall deficit of 44% as of Friday.
As per data provided by government officials, 6,000 hectares of agriculture land will be covered in the first phase of the project.
Skymet will use drones in Osmanabad rural, Bembli and Jagjee to assess the crop.
"We have asked Skymet to carry out their pilot during the kharif as well as the rabi season, for which we have identified the dominant crops in each circle.The objective of these studies is to get a technology that will help assess village level yields of crops," said Deshmukh.
Jatin Singh, CEO at Delhi-based Skymet Weather Services, said his team had started the project last week.
"Since Marathwada seems to be heading for a drought, the state government has come out with a project that involves using ANIRBAN drones to assess crop loss. The idea is to identify what each farmer has grown or what each and every farmer has lost," he said.
Singh also said that the Maharashtra government has promised plot-based settlement of insurance claims for farmers. "By next year, the government wants to cover 500 villages," he said.
Agri-product industries have their own systems of collecting data. But the production estimate by the governments is the main source of this data, which also influences the import and export decisions of the central government.
Crop-cutting exercise carried out by the state governments is the main method of measuring the expected crop output from the standing crop.
Source:
Madhvi Sally & Jayashree Bhosale, ET Bureau
http://articles.economictimes.indiatimes.com/2015-08-17/news/65525902_1_drones-marathwada-maharashtra-government