WASHINGTON – Northrop Grumman has won the contract to build the US Air Force's next-generation Long Range Strike Bomber (LRS-B),The Air Force said it chose Northrop Grumman, maker of the B-2 stealth bomber, to build its next-generation bomber, a highly classified, $80 billion project designed to replace the aging bomber fleet with an information-age aircraft that eventually may be capable of flying without a pilot aboard.
After US financial markets closed Tuesday evening, Defense Secretary Ash Carter and Air Force leadership announced that Northrop beat out the team of Boeing and Lockheed Martin for the contract, which is expected to top $55 billion over the life of the program. It's the largest military aircraft contract since Lockheed Martin won the Joint Strike Fighter (JSF) more than a decade ago.
Northrop now has the Pentagon's blessing to build a new fleet of aircraft to replace the Air Force's aging B-52s and B-1s. As builder of the B-2 stealth bomber, Northrop beat out a joint Lockheed Martin-Boeing team in a closely watched competition that has lasted months longer than anticipated.
US Northrop Grumman - Aircraft and Hangar,Next-Generation Bomber (NGB),Long-Range Strike-B (LRS-B) / Daniel Daniels
Speaking at the announcement, Air Force Secretary Deborah Lee James said the bomber would "allow the Air Force to operate in tomorrow's high-end threat environment" and praised the work that went into the selection, in a move that sounded like a preemptive shot to any attempt by Boeing and Lockheed to challenge the award decision.
James said service acquisition officials "carefully considered" the offers from both teams, with the entire process carried out "with a high level of transparency with our industrial partners… we believe our decision represents the best value for our nation."
The contract is broken up into two parts — the cost-plus incentive fee development contract awarded today, and a separate agreement on the first five low-rate initial production lots that will be fixed-price incentive fee. Those first five lots will cover the production of 21 bombers.
The service requested that two independent government cost estimators look at the program. The two groups projected that each bomber will cost $511 million in 2010 dollars on average if 100 planes are built, Air Force officials told reporters on Tuesday — substantially less than the original $550 million target cost set by then Secretary of Defense Robert Gates. This translates to $564 million per plane in fiscal year 2016 dollars.
LRS-B's projected unit cost is higher compared to the B-1, but significantly lower relative to the $1.5 billion price tag of Northrop's B-2, according to an Air Force handout. The expected development cost overall for LRS-B is also lower than for the B-2, at $23.5 billion.
B-3 Concept Boeing/Lockheed . (Breakingdefense/Boeing/Lockheed)
The Air Force did not say the value of the contract announced on Tuesday.
At the announcement, service officials revealed:
According to Lt. Gen. Arnold Bunch, the military acquisition deputy, the two bomber teams offered up proposals with all industrial partners included — meaning providers for subcomponents such as engines have already been decided. However, Bunch said that information would remain secret for security reasons.
Risk-reduction efforts cost $1.9 billion from FY11 to FY15.
A tentative date for initial operating capability is 2025, although Gen. Robin Rand, commander of Global Strike Command, indicated that could change.
While many have referred to the bomber as the "B-3" as shorthand, Rand's office will have final say on the designation, which has not been reached.
Air Force officials will make themselves open to Boeing and Lockheed as early as Friday for an explanation of why Northrop was selected, Bunch said. 
B-2-Bomber from Northrop Grumman
What remains unknown at this time — details about the plane itself. The size, weight and payload remain unknowns, as do the extent of its stealth capabilities.
Northrop's win is a game-changer for the aerospace company, which is currently the sixth-largest defense contractor, behind Lockheed and Boeing. With the contract in hand, Northrop will no longer struggle to retain its grip on the combat aircraft market. Not only does the bomber contract boost Northrop's aviation capital, it also likely keeps the company's Palmdale, California, facility afloat.
Northrop's win is unlikely to directly result in a seismic reshaping of the aerospace and defense landscape, analysts said.
Boeing's B-1B Lancers
B-1-Lancer, since 29 years on duty (Reuters)
The bigger issue for the defense industrial base is who the subcontractors are for engines, avionics and other major subsystems on the project, many areas of which are classified, said Byron Callan of Capital Alpha Partners.
"As much as there's all this attention on Lockheed/Boeing and Northrop Grumman, it has much broader implications for the rest of the aerospace defense industry," he told Defense News before the announcement revealed that the subcontractors had already been selected.
A spokesman for engine manufacturer Pratt & Whitney, which makes the F135 engine used to power the F-35 joint strike fighter, said the company "congratulates Northrop Grumman for their selection on this very important program" but declined "to comment on any other questions regarding the Long Range Strike Bomber program."
Richard Aboulafia, an analyst with the Teal Group, said Northrop Grumman's victory means "they'll be the second biggest combat aircraft prime, and possibly the only survivor other than Lockheed Martin by the time the next generation of combat aircraft competitions arrive. As for Boeing, they can either gradually return to being the mostly civil jetliner company they were before they bought McDonnell Douglas, or they can make a bid for Northrop's combat aircraft unit."
But recent comments by Pentagon acquisition chief Frank Kendall on consolidation among primes threw icewater on the suggestion that Boeing would move to buy Northrop now that it won the contract, Callan said.
"Wall Street will still speculate that [because] Northrop won, it will get taken over," he said. "That's implausible, at this point, as long as current leadership is around. It's just not clear to that a new set of people in 2017 are going to have radically different views than Kendall and company."
Unsurprisingly, the two competitors released statements reflecting the results.
"The Air Force has made the right decision for our nation's security," Wes Bush, chairman, chief executive officer and president of Northrop Grumman, said in a statement. "As the company that developed and delivered the B-2 Spirit stealth bomber, we look forward to providing the Air Force with a highly-capable and affordable next-generation Long-Range Strike Bomber.
"Our team has the resources in place to execute this important program, and we're ready to get to work," Bush added in the statement.
Boeing and Lockheed, meanwhile, said they were "disappointed by today's announcement."
Testing: B-1, B-2 und B-52
LRS-B is unusually mature for a program at this stage of development, as the Air Force has already completed much of the testing and risk reduction. Although there are no indications a complete prototype has flown, the team has already built component prototypes and scale models for testing. LaPlante recently indicated the plane could begin flying relatively soon after selection.
The next challenge for Northrop will be integrating the mature technologies already developed in LRS-B's pre-award phase. The main areas of risk are integrating the engines and placing antennas onto the airframe, officials have said.
Part of the reason the LRS-B program is so advanced at this stage is due to being handled by the Rapid Capabilities Office, a small group inside Air Force acquisitions that handles secretive programs such as the X-37B space plane. Right now, there is no plan to change the LRS-B program management, officials have said, but the Pentagon may re-evaluate as the program moves forward.
Secret Stealth Bombers of the Future
The Air Force plans to buy 80 to 100 Long Range Strike-Bombers to replace its aging B-52s and B-1s, which the service plans to retire in the mid-2040s. The new aircraft will be significantly stealthier than the B-2, capable of carrying conventional and nuclear weapons. Initial operating capability is slated for the mid-2020s, with nuclear certification planned two years after that.
The target price is $550 million per plane in 2010 dollars. To help achieve that price point, the Air Force is looking to draw on available, mature technologies, rather than launching new developments. At the same time, the Air Force will use an open-architecture approach to design a plane that can be easily upgraded with new technologies over its lifetime.
B-52 - since 1955 on duty. (Keystone)
The others
China. Xian H-8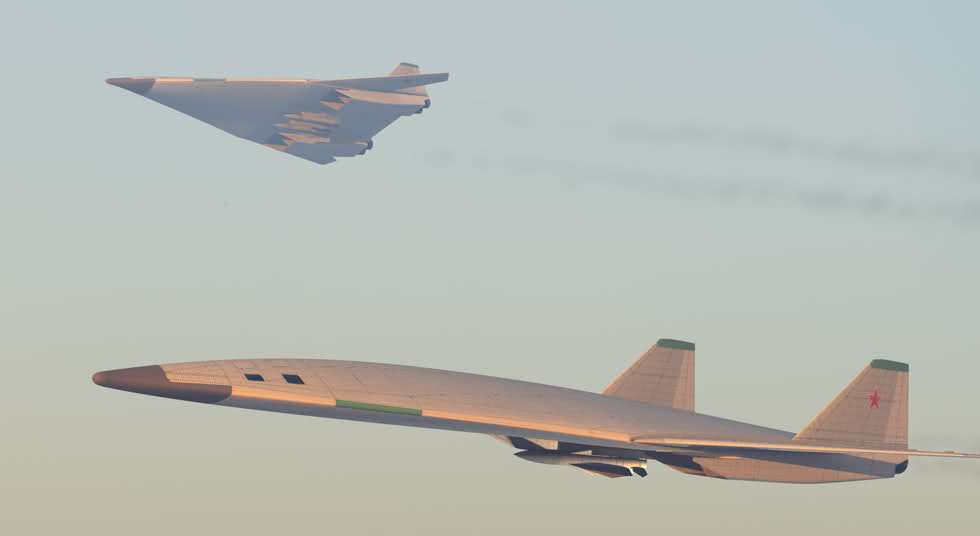 Russia: Tupolew PAK-DA
 India: Stealth bomber AURA |
Source:
http://www.defensenews.com/story/defense/2015/10/27/northrop-grumman-wins-usaf-bomber-contract/74661394/