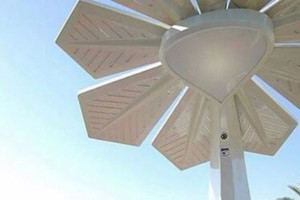 Dubai's beaches have smartphone addicts and gadget lovers covered with new state-of-the-art trees that allow visitors to have Wi-Fi access and the capability to charge their smartphones. The so-called "smart palm trees" are installed in the beaches of Dubai, where they harness solar power during the day so they can offer Wi-Fi and power to beach goers during the evening. The Smart Palm project is an iconic fusion of easy access to information, accessible WiFi and green technology.
Dubai's beaches now have "smart palm trees" which use solar technology to provide Wi-Fi and phone charging capabilities. 
Created by the company Smart Palm, each smart palm tree measures 20 feet high, has leaves measuring 18 square meters, has eight charging points, can offer Wi-Fi within a 100 meter radius, and has screens and security cameras. The leaves are equipped matrices of photovoltaic modules that absorb the sunlight and each palm tree has a seating area for the comfort of the visitor. Dubai plans to 'plant' a further 103 Smart Palm trees across the city.
Smart Palms to issue weather warnings at Dubai beaches
"For us, it was important to translate the important cultural identity of the date palm from being a plant that provided shelter, building materials, shade and sustenance, to our Smart Palm, designed to provide data, connectivity, energy and all in a sustainable manner," said Viktor Nelepa, Smart Palm's founder, in a press release.
The green self-sustainable device recharge station can reportedly charge your smartphones two and a half times faster than a traditional charger. While there is currently no data on the cost for this kind of technology, the implementation of smart palm trees is evidence of how technology can be both convenient and sustainable.
Source
http://smart-palm.com/