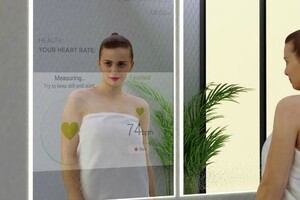 How do you expect your bathroom to look in about 20 years' time? If you thought robots might play a part or that your mirror will become interactive, you could be right.
Bathrooms.com has teamed up with futurologist Dr Ian Pearson to predict just how radically bathroom technology will advance by 2025 and 2040, believing that the growth of the Internet of Things will make the bathroom more advanced and connected than ever before. In just ten years' time our phones or electronic jewellery could act as controllers for new tech, which could include smart mirrors with chemical sensors to analyse your breath for health problems. Doctors may be able to see you from a mirror for a check-up too and perform retina scans without you leaving the house. Mirrors could also allow you to change your appearance virtually without having to physically try on any make-up or spend time testing out a new hairstyle.
Bathroom scales could be replaced entirely by floor tiles or a high-tech rug to keep track of your weight, while other tiles may act as flat panel speakers. Further ahead into 2040, robots will take over cleaning duties, but it's thought that they'll also be able to give you a massage or bathe you, and even apply your nail varnish. So-called active skin technology is expected to be habitual in 25 years too, which could mean the start of graphene-based electrical circuits printed onto skin (and even into the skin itself), allowing a robotic part of the mirror to do your make-up for you.
Your bathroom may eventually be able to recognise you, personalising your environment with lighting and entertainment tailored specifically to your tastes as soon as you enter. "Bathrooms already make good use of technology developments, with LED lighting in ceilings, mirrors, taps and showers, and smart toilets, ultrasonic toothbrushes, heated floors and advanced personal care products already commonplace," Dr Pearson explained.
"But, there will be more change in coming years. By 2025, bathrooms will be rich in internet-of-things connectivity and by 2040, it may be the norm to have a robot to clean your bathroom."
Search
http://home.bt.com/tech-gadgets/future-tech/robot-cleaners-and-mirrors-that-check-your-health-discover-how-your-bathroom-could-look-in-2040-11364005933997